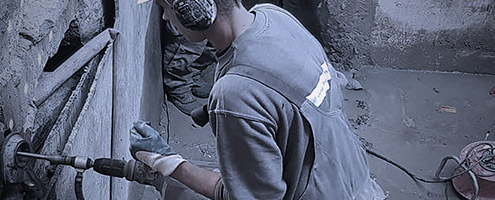 When you're trying to choose the best hammer drill for concrete, you'll have a very wide range of options available to you. If you conduct even a cursory level of research online, you will undoubtedly come across dozens of contenders which might be very good for your concrete drilling projects. That means you will be faced with the prospect of having to choose from among a number of products, all of which sound very appealing and very capable.
It's definitely worth your while to try and wade through this whole catalog though, because a hammer drill can be extremely useful for a great many home projects as well as professional projects. Hammer drills can bore holes and drive screws into brick, stone, metal, and a number of other hard surfaces as well. As soon as you pick up a hammer drill, you'll be able to tell by its bulky size, it's auxiliary handle, and the numerous control settings, that this is one rugged tool.
It offers the combined capabilities of an impact driver, a small jackhammer, and even a standard drill. That makes it a very smart and useful addition to your collection of tools, even if you don't use it as often as some of the other tools in your arsenal. In order to choose the best hammer drill for your particular usage, you'll have to figure out how you intend to use the tool, because that will have a lot to do with choosing the right hammer drill for your needs. Below we'll discuss one of the most capable and popular drills on the market today.
The FlushSpeed PRO SDS-Max Hammer Drilling System
The FlushSpeed PRO SDS-Max Hammer Drilling System is equipped with a coolant water system which allows it to achieve extremely high penetration rates, while sustaining only minimal wear and tear on the carbide tip. This revolutionary new drilling system accomplishes drilling twice as fast as any ordinary system, and has four times longer bit life than any other currently available carbide drill tip.
It produces clean bore holes that look like the work of a professional, and it's ideal for rebar doweling applications, as well as drilling deep anchor holes. It fits any standard SDS-Max Rotary hammer, and it's so operator-friendly that you can use it for hours without getting yourself exhausted. The SDS-Max Hammer Drilling System makes use of superior carbide tips which are fitted onto either a 200 mm or a 400 mm drill shaft.
When greater depths are needed for your drilling holes, there 12" extension rods which come with the system that can be attached to achieve greater depths. Carbide tip diameters used with this system range anywhere from 5/8" to 1 3/8" diameter drill cutting heads and that's what allows the system to be so flexible and versatile, suitable for a broad range of different applications.
Accessories for the FlushSpeed PRO
The best place to get all your drilling accessories for the SDS Max Rotary drilling system is at MJC Marketing & Sales, where you can always count on getting high-quality products and the best in customer service. One of the most popular accessories sold at this online store are the drilling shafts necessary for this system, and the shafts themselves are made available in 8-inch lengths as well as 16-inch lengths. If you need any couplers for your drilling system, you'll find a number of great options at this online store as well. You can buy couplers for injection heads or shafts as well as for your hammer tips, and these will be available in various diameters to accommodate your drill system.
You might also need additional extension rods so that you can achieve greater drilling depths, when it's necessary to drill deep anchor holes, or when you're confronted with rebar doweling applications. Extension rods come in lengths of 12 useable length, but multiple rods can be coupled so as to achieve even greater depths. You can also purchase SDS-Max Water Injection Heads, which come complete with hose and water valve, and which fit all standard SDS-Max Rotary Hammers. And of course, you'll also find the ideal carbide hammer tips here, in diameters ranging from 5/8″ to 1-3/8″.
No products found which match your selection.