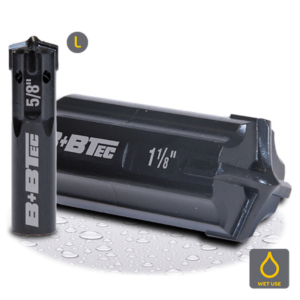 When choosing hammer drill bits for your concrete drilling projects, you should be careful to make sure that any bits you select are compatible with the drilling tool you're using. In most cases, you won't have to worry about compatibility, but there are some proprietary bits which will only work with specific drilling systems. Other than that, you should try not to be too concerned about the pricing of any drill bits you buy, because it's much more important that you purchase a quality bit. Less expensive bits may be subject to more frequent breakage, and you'll end up buying so many replacement bits, that you'd have been better off to buy the more expensive one to begin with.
If you haven't really been exposed to the wonderful world of drills, drill bits, and the whole catalog of possible accessories, you'd be well advised to stick with a single vendor whom you can trust to provide superior products and quality merchandise. For many professionals as well as all the home do-it-yourselfers out there, that choice is MJC Marketing & Sales, since they offer some of the best concrete drilling merchandise available anywhere. You can pretty much count on finding everything you need at this online store, and you can also expect the very best quality and customer service. Some of the most popular products from MJC are described below.
Carbide hammer tips
The 'easy-change' carbide hammer tips are intended for use with the FlushSpeed Pro Wet Hammer Drilling System, and the two make a perfect match for all your wet drilling operations. There are hammer tips available in sizes anywhere from 5/8″ to 1-3/8″, and that allows them to be used for virtually any sized drilling task which you might ordinarily encounter. You can count on these superior carbide tips lasting longer than ordinary drilling tips, and that will save you money in the long run, in addition to giving you a smoother, faster drilling operation.
About the FlushSpeed Pro Wet Hammer Drilling System
This is an SDS-Max hammer drilling system which is truly revolutionary in providing greater drilling speed, extended bit use, and all at an extremely affordable price. This system uses coolant water to achieve its very high drill speed rates, while sustaining minimum wear and tear on the carbide drill tip. These easy-change carbide tips can be placed on 200 mm or 400 mm drill shafts, and can be used with standard SDS-Max rotary hammers. To achieve greater drilling depth, it will be possible to attach 300 mm drilling rods. Exchangeable carbide tip diameters range from 5/8" to 1 3/8" diameter drill cutting heads, and that makes this system ideal for drilling through rebar and for anchoring applications.
With this drilling system, you won't need to have any dust removal equipment on hand, since it's silica dust-free. It produces standard roto hammer type holes which look like professional work, even if you're basically an amateur. It is the perfect system for installing deep anchor holes as well as drilling through rebar concrete. It fits standard SDS-Max rotary hammers very nicely, so it has some built-in versatility as well. Perhaps best of all, it's very operator-friendly, so you won't be worn out after a project where you need to drill a number of concrete holes.
FlushSpeed Pro accessories
MJC Marketing & Sales does not simply offer the carbide tips which can be used with the FlushSpeed Pro Wet Hammer Drilling System, but the firm also offers a number of other accessories which can be used in tandem with this particular system. For instance, MJC offers a number of 8″ and 16″ drilling shafts, ranging from 5/8″ in diameter to 1-3/8″ in diameter. You can also purchase couplers for your hammer tips or for the injection head shaft at the online store, all of which are offered at very affordable prices.
When you need extension rods for drilling deeper depths, you'll find just what you need at the MJC shop. These can be used whenever you have tasks involving deep anchor holes, or possibly rebar doweling applications. The standard extension rod comes in lengths of 12″, but multiple rods can be coupled together to create even longer drilling rods. If you're in need of an SDS-Max Water Injection Head, you'll find just what you need at MJC. It fits standard SDS-Max rotary hammers, and it comes complete with hose and water valve.
No products found which match your selection.