Anyone who enjoys the do-it-yourself aspect of home maintenance will probably have to drill into concrete at some point. This might be necessary to mount something on your basement wall, put in a shelf on your cinder block garage wall, or to install a window box on your brick veneer. Whatever the actual need might be, you'll probably need to know all about the tools necessary for drilling into concrete, and the discussion below will provide you with the knowledge you need.
Drilling in the olden days
We've come a long way since the days when hand tools were necessary for drilling into concrete and masonry. Prior to the advent of power tools, the best approach to drilling into steel was to use a hardened steel bit and a sledgehammer. As you can imagine, this was a tedious and exhausting process. It called for hitting the bit much like you would an ordinary nail, then twisting the bit a quarter turn and repeating the process. The process of drilling and its objectives remains the same, since it still calls for pulverizing the concrete and then removing the dust from the hole. However, the tools have changed dramatically, and the process is now light years easier and faster.
Modern power drills
Most drills used to drill into concrete today will either be a hammer drill or a rotary hammer, and they take very different approaches to the process. A hammer drill combines vibration with a twisting action, with the vibration provided by a mechanical object known as a gubbins. This gubbins is similar to two poker chips being rubbed together at a very high speed, and that creates sufficient vibration for a steel bit to pulverize the hard material being addressed.
Most of the material which gets pulverized will be efficiently removed by flutes, which have been designed into the hammer drill for that purpose. Generally speaking, hammer drills are used for smaller holes such as anchors and screws. A rotary hammer is a more robust version of a concrete drill, and it works similar to the way a jackhammer would if being twisted. The bit goes backward and forward in a linear fashion, and it allows for a smoother drilling operation as well as a faster one.
It's capable of drilling much larger holes than a hammer drill, and is considerably quieter in operation. It's also generally much more expensive than a hammer drill, and it will always be classified according to its weight and chuck, for instance a 5-pound rotary hammer or a 10-pound rotary hammer. The reason for this scheme of classification is because the heavier the tool is, the more work it's capable of performing. For the most part, any household do-it-yourself tasks that you encounter can be managed very effectively by a 5-pound rotary drill.
The best concrete drills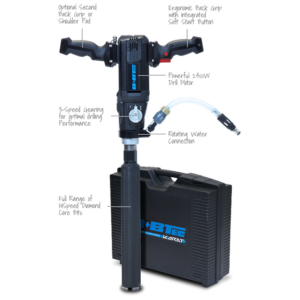 There are a number of excellent concrete drills on the market today, and if you're looking for a reliable high-quality drill, you probably can't do any better than to do your browsing and shopping at MJC Sales & Marketing. For instance, you might want to choose a Karat Core Drill which is a drilling rig that provides ultrafast precision drilling, even if you're going through reinforced concrete. It's very compact and lightweight, so it can easily be managed by anyone. It also has a great deal of flexibility built in, so you can configure your own personal favorite drilling rig, and it facilitates an easy exchange of stands, accessories, and drill motors right while you're working.
The Handheld Core Drill is essentially a light wet version of the Karat 180 Core Drill, and it will provide a highly effective solution for any drilling operation you might have into masonry or concrete. This drill can be used for either wet or dry drilling, and it can also be used in handheld mode or with a drill stand. It has a powerful 2400 W motor, and a 360° rotating water connection.
MJC also offers a wide variety of diamond core bits, and of course diamond is the hardest substance known to man, so it will be very efficient in drilling through any concrete or masonry you might encounter. Some types of diamond core bits include DrySpeed segmented bits for dry drilling, HiSpeed crown bits for wet use, HiSpeed pre-stressed crown bits, HiSpeed segmented bits for wet drilling, and premium diamond tile bits, which are extremely versatile.